Kate Parker is the Sioux Falls School Board's longest-serving Board member. She was elected in 2009. She received her bachelor's degree in education from Bucknell University and holds a Master of Public Administration degree from American University. She resides in Sioux Falls with her family and works as a Director of Government Programs at one of the local hospitals. Parker spent the early part of her career working for organizations that advocated for vulnerable children. Her background in education and prior work experience is what motivated her to run for the school board. Parker is #ProudToBeSFSD because of how dedicated the Sioux Falls School District staff is to serving students. Using her own children as an example, she believes the District provides each student opportunities that are tailored to them and their needs, which allows them to thrive as engaged and successful students.
Nan Baker was elected to the Sioux Falls Board of Education in 2019. Baker attended Central College and Harvard University. She currently resides in Sioux Falls with her family. She provides leadership coaching services and is an active volunteer within the community. Her passion for the life-long impact education has on a child's life is what inspired her to run for the school board. She believes the Sioux Falls public schools and the students who make up our schools are the city's greatest assets for future success. She is committed to strengthening our schools to make Sioux Falls an appealing place to live and work, while also ensuring the community's tax dollars are used wisely while strengthening the District to meet its growing needs Baker is #ProudToBeSFSD because of the District sustained growth, which provides new opportunities and solutions in areas such as facility needs, attendance, and graduation rate, the diverse workforce, and community engagement.
Marc Murren was elected in 2021 and is the newest addition to the Sioux Falls School Board of Education. He attended Northern State University where he received his bachelor's degree and the University of South Dakota where he completed his master's degree. Murren resides in Sioux Falls with his family. He is a retired Sioux Falls School District teacher and coach. He started his career with the District over 40 years ago when he was first hired to teach at the old downtown Washington High School. His commitment to the youth of Sioux Falls is what inspired him to run for the school board. He is #ProudToBeSFSD because he believes Sioux Falls is a great community with great opportunities and great citizens who care about the town and the people who live here. He is dedicated to providing every child the opportunity to be successful and to create a quality future workforce. Murren is passionate about working hand in hand with the staff and all stakeholders to provide a quality education for our students, who deserve our best efforts.
Carly Reiter was elected to the Sioux Falls Board of Education in 2013. Upon graduating from Roosevelt High School, Reiter went on to acquire a bachelor's degree in business management from the University of Nebraska-Lincoln as well as a bachelor's degree in nursing from South Dakota State University. She currently resides in Sioux Falls with her family and works as a Clinical Informatics Specialist at one of the local hospitals. Reiter attended Oscar Howe Elementary, Edison Middle School, and Roosevelt High School. Her curiosity about the programs and offerings of the District is what initially peaked her interest to run for school board. She is dedicated to hiring and supporting talented staff, engaging parents, and challenging students to do their best. Reiter is #ProudToBeSFSD because of the creative and innovative opportunities the Sioux Falls School District offers to help all students succeed. The opportunities provided at all levels help students to be successful in learning different skills and knowledge that will help them in whatever path they choose after high school.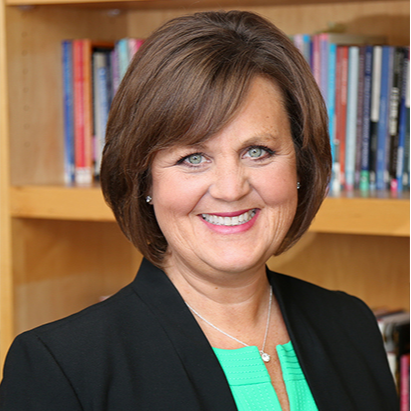 Dr. Jane Stavem
Superintendent
Sioux Falls School District Superintendent, Jane Stavem started with the District in July 2020. She holds a Bachelor of Arts degree in education from Bethel University, a Master of Arts degree in Educational Leadership from the Bethel University, an administrative licensure degree from St. Mary's University, and a doctorate (Ed.D.) in educational administration from the University of Nebraska-Lincoln. Dr. Stavem started her career in St. Paul, Minnesota where she taught K-6 music, fifth and sixth grades, gifted education, and served as a building curriculum coordinator. In 2001, she returned to Nebraska and assumed the roles of Elementary Principal and Executive Director of Curriculum and Instruction for Columbus Public Schools, Superintendent of Blair Community Schools in Blair, Nebraska, and the Associate Superintendent for Instruction for Lincoln Public Schools in Lincoln, Nebraska. Prior to coming to Sioux Falls, Dr. Stavem was the Superintendent of the Lake Washington School District.
The following Sioux Falls School District policies are currently open for public input and scheduled for second reading during the School Board meeting indicated to the right of the description. You are invited to make public comments at the corresponding Board meeting and/or submit a written comment to the superintendent via email at sfsdwebmaster@k12.sd.us or by U.S. Mail/hand delivery to 201 E. 38th Street, Sioux Falls, SD 57105.
Please review the Procedure for Addressing the Board.
Policies/Regulations open for public input:
| SFSD Policy/Regulation | Board Meeting Date |
| --- | --- |
| | |
Residents and parents/guardians of students enrolled in the School District have the expressed right and are encouraged to attend meetings of the School Board to listen and observe the deliberations of its members. A Board meeting is a legislative session, a public input session, or a work session.
Please Call (605) 367-7900 to have phone messages relayed to the School Board Members.