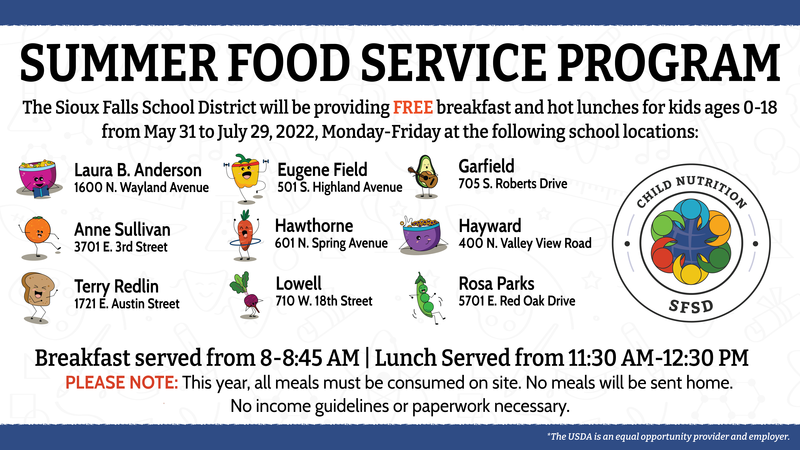 The Sioux Falls School District is committed to keeping our students healthy and well-fed over the summer months! Our Summer Food Service program, which provides FREE breakfast and hot lunches to any child 18 and under will begin on Tuesday, May 31, and run through Friday, July 29, 2022.
Locations this year are as follows:
📍 Laura B. Anderson Elementary
📍 Anne Sullivan Elementary
📍 Terry Redlin Elementary
📍 Eugene Filed A+ Elementary
📍 Hawthorne Elementary
📍 Lowell Elementary
📍 Garfield Elementary
📍 Hayward Elementary
📍 Rosa Parks Elementary
⏰ Meals will be served Monday through Friday with breakfast being served from 8-8:45 am and lunch from 11:30 am-12:30 pm.
📝 There are no income guidelines or paperwork necessary. 📝 Adults are welcome at a cost of $2.50 for breakfast and $4.35 for lunch. (Exact change or check only.)
‼️ Please note: this year, all meals must be consumed on-site. No meals will be sent home.